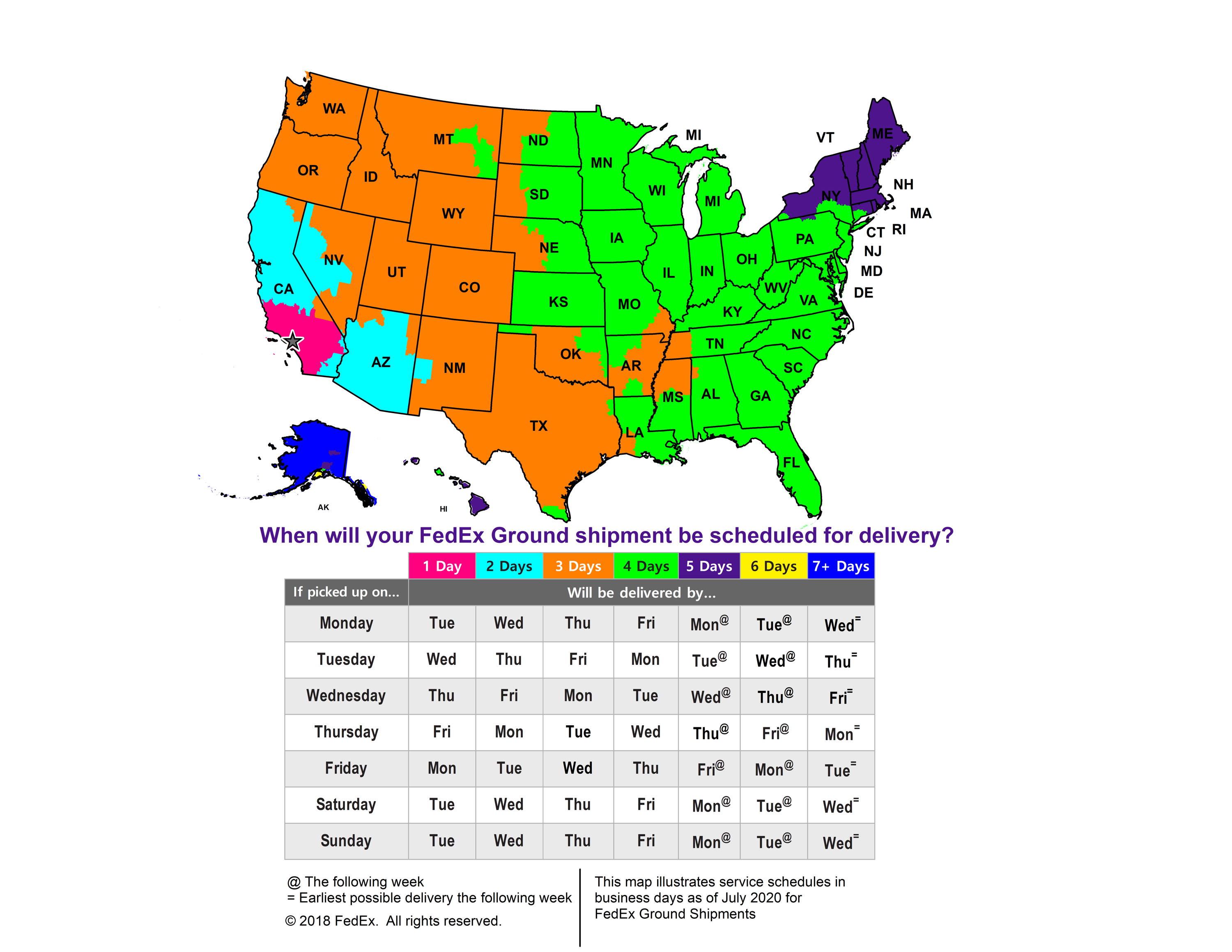 This map outlines normal FedEx transit times around the country- further delays expected for ground service
How long will my package take to arrive?
2-Day and Overnight shipments are still being delivered normally. Ground shipping to major metro areas has been mostly on time but shippers are all expecting delays nationwide on all services. There is no guaranteed delivery time on ground orders. This is not a limitation on our end but for any and everyone shipping in the United States and worldwide.
What if I want to send gifts to multiple recipients?
Great! At checkout you can select "ship to multiple addresses." If this isn't showing up on your end, just shoot us an email once you place your order and we'll get it sorted. hello@flaskfinewines.com
Got a BIG list? Click here to use our large order template
My Shipment Hasn't Been Delivered
Ground orders are going out within 2-3 business days. If more than 7 business days have passed since your order shipped and it hasn't been delivered, please email us at hello@flaskfinewines.com & be sure to include your order number
Overnight & 2-day express orders are still processing within 1 day.
My tracking number is invalid
Fedex's system is taking longer than normal to update. If more than 24 hours have passed since you received the tracking information and it still shows "invalid" please send us an email.
If my package is late will I get a refund?
Short answer- no. All shipping carriers have suspended their on-time service guarantees nationwide until January 16, 2022. There will be no shipping refunds issues for shipping delays by any carrier.
What shipping service should I use?
Ground has been fine for short distances but has an increased breakage/loss risk.
For anything you consider valuable or time-sensitive, we very strongly suggest using Overnight or 2-day shipping options
Insurance is great! We use it for everything we have incoming to us & it's money well spent.
If you add insurance to your order, it will be re-shipped or reimbursed if it's lost or broken in transit (read more here).
If you decline insurance, we will not be able to reimburse you or re-ship a lost or broken item.
Transporting wine in extreme weather conditions and temperatures may seriously damage wines. We define these temperature readings or predicted temperatures of greater than 80 degrees or less than 32 degrees Fahrenheit. Flask performs regular weather checks prior to shipment. These checks confirm appropriate temperatures will be held at the point of origin, along the probable route and at the final destination.
During periods of extreme weather we strongly advise against transport by any means. During these times we are pleased to provide complimentary short-term storage until better conditions prevail. We refer to this type of hold as a Weather Watch; if your order is placed during a Weather Watch period, it will not be scheduled for shipment until the end of the moratorium.
If you wish to ship regardless of weather conditions, we ask that you contact us to arrange shipment of your purchase and that you agree to a Weather Waiver, releasing Flask from any liability from weather related damage. Once we have received your Weather Waiver, your shipment will be sent on the agreed scheduled date, regardless of the weather conditions or temperatures. Insurance does not cover damage related to extreme weather which may include raised corks, seepage, leakage, and/or label damage. Should a Weather Watch moratorium arise during a previously scheduled shipment date, Flask will contact you via email to arrange an alternative shipping date.